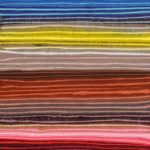 Cloth – Why? When we finish a project, we can't help but run our fingers over the surface to savor the different textures of the piece. We both grew up in homes that appreciated the art of sewing (okay, so Deb's mom was a seamstress and Kris' mom had a seamstress, but who's keeping track) and fell in love with all the fabrics we encountered.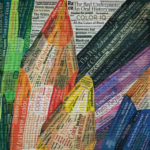 Computer – Why? Hey, we're computer geeks, too. We can literally play with Photoshop for hours. Most of our projects start out on the computer. We've been doing this for quite a while now. Do you remember 5 1/4″ floppy disks? We do! You can bid on pieces like our "The Language of Color 7: Color IQ" during the 2016 SAQA Benefit Auction, starting Sep 16.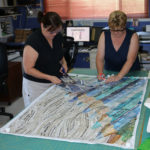 Collaboration – Why? We have come to realize that art need not be an isolated endeavor. We've also been friends for a loooong time and enjoy creating together. That's why we started the Pixeladies in 2003. We can't believe we've already celebrated over 12 years as the Pixeladies! Click here to read more.
– Deb and Kris