Preparing for the Batik Watercolor Quilting classes that the Pixeladies teach is not an easy task. There are many things that need to get done, and they are all very time consuming.
The first thing I did was sort the fabric squares that had been mixed up from being used in the previous class. There were over 1,500 2 1/2″ X 2 1/2″ fabric squares. A lot of the squares look similar so you have to be careful not to put them in the wrong pile.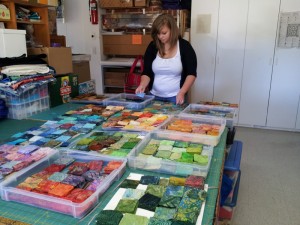 The second thing I did was sort through the pieces of fabric to see which squares Deb and Kris were running low on.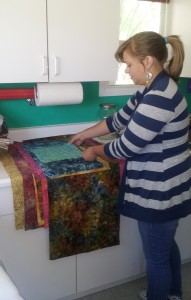 The third thing I did was iron the fabric that needed to be cut.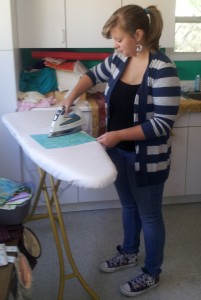 The fourth thing I needed to do was iron the fusing onto the fabric.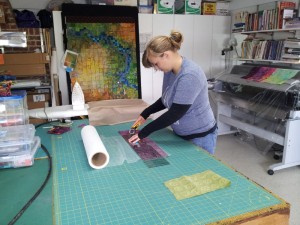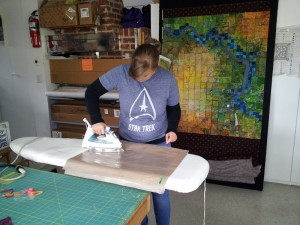 The fifth thing I need to do – but I have not gotten to yet – is cut the fused fabric into 2 1/2″ squares. I know that will be easy because after having to cut the 2 1/2″ squares into 1 1/4″ squares for a special class, it can't be worse than that. Out of everything I have had to do, this was probably what sucked* the most, because I needed to be so careful, and it took so long.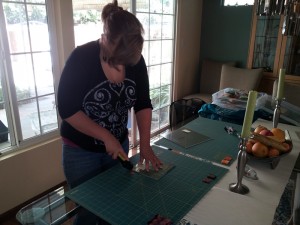 I enjoyed getting to work with the fabric, but hopefully I will never ever have to cut a 1 1/4″ square again.
* Kris and Deb said it was okay because this is more of a conversational blog for me to use the word "sucked" when normally in a business setting I would not.