Wow, it finally happened. A company read one of our blog entries and thought we needed to review their company as well, so here you go! After Modern Yardage.com read our fabric printing review, they asked if they could print our test sample for a comparison. We thought, why not, and sent off our file with really no expectation of getting anything back, let alone a great piece. But we were wrong on both counts. We'll go over the same areas we covered in the first review: website ease of use, black, color, fabric, service.
Website – Ease of use
We have to admit, we didn't even look at the website until they came to us. However, there is no automated system with Modern Yardage. They just tell you to send them a low-resolution image, and they'll work with you from there. Modern Yardage is owned by April and Jay Cobb, so if it sounds like a mom-and-pop operation, it is. But let's get to that under service.
Black
OMG! Do they get a crisp, black black! That was our first comment to one another. You know how many times we tell everyone that black is the key element in fabric printing. Modern Yardage hits the bullseye. Not much more to say here other than wow. Here's their sample: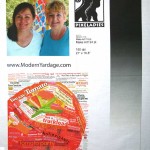 Color
Like we said, once you get black, everything else follows. We were very pleased with the photo of ourselves. Wait, that doesn't sound right. What we mean to say is the flesh tones were the best of all the companies we reviewed. Color will always vary because you know what you see on your monitor is going to be different than what I see on my monitor, and ultimately, what color prints out on the fabric. Modern Yardage scores high here, too.
Fabric
Well, there's always a catch, isn't there? When I talked with April the other day, she said they have plans to expand to canvas, but for now they are only printing 100% cotton poplin. It's lighter weight than what Deb would consider a poplin (and Kris trusts Deb on all things fabric – beer ratings, not so much), and that's a good thing. I ran a sewing needle through it and thought it sewed well. I did tell April I thought a sheer would be the next great fabric. Let's hope they have the success with the cotton to add more fabrics to their line.
Service
Remember the remark about Modern Yardage being a mom-and-pop operation? It is, but in the best sense of the word. Being able to just call them up and discuss all manner of printing questions (droplet size, humidity factors, etc.) just really gave us the feeling that April and Jay know what they're doing and watch over their printing projects like babies. In other words, great, personal service. We like that.
Our Overall Recommendation
A winner! If you're ordering cotton (fat quarter minimum), you'll like what you get from Modern Yardage.