We're getting ready for the new year and new classes, so we thought we'd show you a couple of photos that will illustrate 1) how great a tool Photoshop can be, and 2) that nothing helps a photograph better than a good photographer. When we were in Houston this past October, we had Bonnie McCaffery photograph the two of us together. We sometimes have to submit one photo of the two of us, so we grabbed this opportunity. Bonnie had photographed us at the SAQA conference in Alexenadria, VA, and we were so pleased with the results:
What we've noticed about Bonnie's photography was that the photos of all of our friends (and of us, too) looked just like them only better! I don't think you can make a better compliment to a portrait photographer. She really captures the inner spirit of her subjects. Here is an example of Bonnie's magic: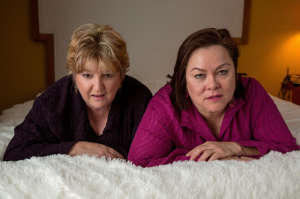 This shot was taken during one of Bonnie's "pauses" to relax. She takes some time to "arrange" you into that perfect shot, so you need to relax all those muscles when she's not shooting. And can you believe we were lying on the hotel bed?!?!? Full disclosure, the second photo is not this first photo retouched, but you can still see how talented Bonnie is.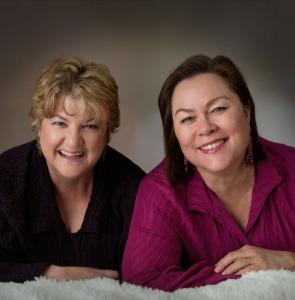 We had the giggles that day, so Bonnie just worked with that. As you can see, Bonnie captured the real us. Now, what does all this have to do with our upcoming Photoshop classes? Well, nothing really except that while you won't learn to be great photographers like Bonnie, you will learn how to exploit Photoshop for your needs as a fiber artist or sewing enthusiast. And you don't have to know how to sew to take our classes. Click here to read all about them. Happy New Year to you all!