We're getting ready to teach our Photoshop Essentials 1 & 2 again, and this is the time we remember how powerful Photoshop is and how difficult it is to decide what to teach in these classes. Here are a couple of nifty features of the Move tool that we think really help our students speed up the creative process.
1. Automatically Switch to Move Tool after Writing Text
It often happens that after you write some text, you need to position it somewhere else. You can set your preferences so that the Move tool is automatically selected after you commit some text. From the Menu Bar, click Edit > Preferences > General (Mac users = Adobe Photoshop Elements Editor > Preferences > General). Make sure you check the box next to "Select Move tool after committing text" (see red arrow).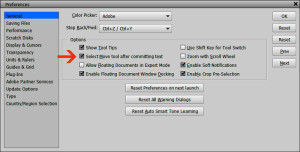 2. Move a Really Tiny Object
Sometimes you want to move a something that's so small you can't quite grab it with your Move tool. Sure, you can zoom in, but sometimes when you do that, you lose sight of the "bigger picture" and aren't quite sure where to move the object. There's a great trick for this. All you have to do is place your Move tool cursor anywhere outside of those squares around the object (AKA the bounding box), and it will still move the object.* Try it. Click on the image below to note the location of the Move tool in relation to the "crown" it is moving.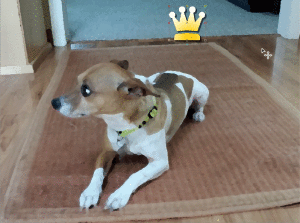 *Make sure you have "Auto-Select Layer" off. This is the default setting in Photoshop. We hate Auto-Select because we don't need Photoshop trying to find the layer for us. We know what we're looking for! The setting is in your Move Tool Options bar, seen here in Photoshop Elements:
The cool Move tool is one of the things we cover in the Photoshop Essentials classes, and you'll learn plenty of other nifty tips and tricks. Click here to learn more about our classes.