For the first time ever, the Pixeladies took the summer off. Deb needed to find herself, and Kris, well you'll have to wait until next week for that. I, Deb, really needed to find my paint rollers and paint the interior walls of my house. I had also planned a slight renovation of the kitchen, having a new roof put on the house, and entertaining some company. So what did I accomplish? At first I said nada. But that wasn't really true.
I'm almost finished with the kitchen. Gone is my red Kohler sink and racing stripe and in came the much-more-subtle-than-I expected beige and gray. Yes, the cabinets are still the same. I really like the gray, and I still love my drawer pulls from the last remodel. But the new counter is Dekton–a super-duper composite that will do everything but clean itself.
I also adopted a kitten from the local animal shelter. Our old cat Barney passed away a year ago, and Lucy only likes my dear husband. Lucy doesn't like Memphis much either, but as the weather cools off, they're getting closer.
Our company was my German "sister." I lived with her family 40 years ago. This summer she and her family came for a visit. We had a good time taking them to the places we like to eat–my mom's for the best steak and Tom's Burgers and Frosty in Placerville for the best hamburgers.
In between eating we did show them our favorite places around Northern California.
For fun I did some garment sewing. I had lots of fun creating frocks out of thrift-store t-shirts. It's almost like quilting. You cut apart perfectly good clothing (fabric) to make new clothing (quilts).
And, yes, I work best in a messy space.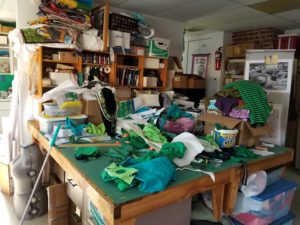 We have the permit for the new roof, and I have organized all of the still-liquid paint and discarded the cans that were dried up. Maybe I'll get to it this fall. Don't hold your breath.