Our students know how much we love to organize our photos with Photoshop Elements Organizer. It's really handy for visual people like us, but it's also very powerful. Take, for example, the keyword tags. You can create a keyword tag for anything you think you'll want to search your images for. We once had a student who created a category called "Cats" and then a keyword tag for each of her (many) cats. Since I have lots of photos of quilts, I want to be able to find them according to type of quilt. (Deb, too, has a category for Quilts!) By default the keyword tags in the Tags panel look just like sub-categories. In this example, the category "Quilts" has a plain green icon, while the sub-categories "Art" and "Traditional" and the keyword tag "Log Cabin" have plain orange icons.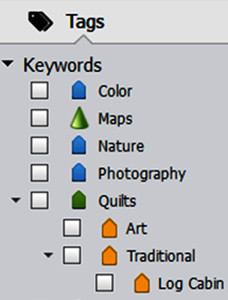 When you look carefully, you can see that "Log Cabin" is below "Traditional" in the hierarchy, but you really can't tell that it is a keyword tag. This may be fine for some people, but when you are quickly trying to grab keyword tags and drag them to an image, it's nice to have a more obvious way to differentiate one keyword tag from another. Right-click on a category or sub-category and choose "Create new keyword tag." In the dialog box that pops up, you can add an icon by clicking on "Edit icon" and selecting any image you want.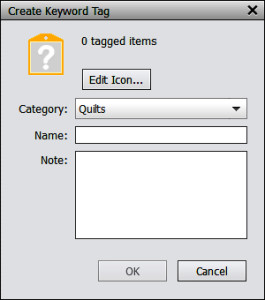 But here's the catch: you will NOT see this photo-based icon unless you go into your preferences and change the way keyword tags are displayed. From the Menu bar, click Edit > Preferences > Keyword Tags and Albums. Under "Keyword Display," check the second "Keyword Tag Name" (the one with the photo inside the tag), then click OK.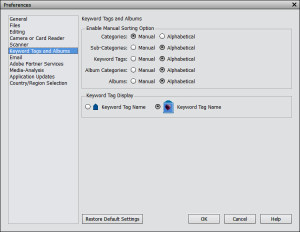 Now the keyword tag shows one of the photos you've tagged with that keyword.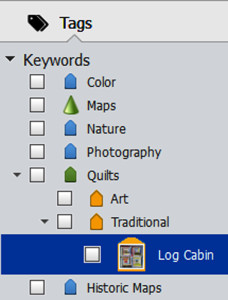 We hope you explore using alternative keyword icons. They really are good visual aids. If you don't like them, you can always change your preferences without losing the icon information. Want to learn how to use Organizer more fully? Please consider taking our online course. The next session starts on July 25. Click here for more information.