There are so many quilting classes out there that it's sometimes difficult to sort through them all to find one that is most suited to your needs and desires. We recently came upon the summer class schedule for the Schweinfurth Art Center in Auburn, NY (near Syracuse). If you're looking for serious artist teachers, you need look no further. We've taken classes or heard lectures from both Rosalie Dace and Maria Shell, so we think they would be great. Because we are working on our new design class, and I keep thinking about line, I am particularly intrigued by Kathy Loomis's class called "Fine Line Piecing."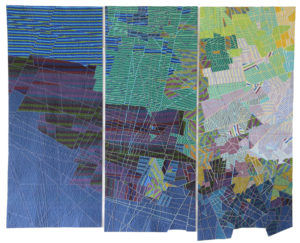 In this class you'll learn how to sew very thin lines of all types, including straight, curved, and swoopy, and then incorporate them into an art piece. Kathy is also teaching Improvisational Strip Piecing, so that might be more up your alley. If you do have the opportunity to learn with Kathy, ask her about her flag quilts. I still think they're among her best work.
And a little P.S. from Deb: at our Studio Art Quilt Associates conference in 2016, Kathy spoke about the benefits of working in a series. While she showed examples from abstract artists, it made me want to go back and examine our text pieces, and see if I noticed changes over time. And, no, I haven't gotten around to that yet!