Tech Tuesday: Try The Radio!

We just finished taping our segment for next Monday's edition of American Patchwork and Quilting Radio. We hope you'll "tune" in then. Okay, so it's not your grandparents' radio. You can listen to the show live via your computer, listen to previous broadcasts, or download different shows via iTunes (for free!).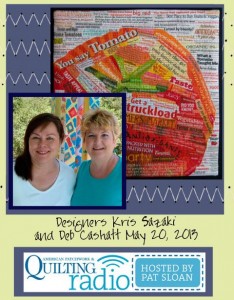 So, what was it like to tape a radio show, you ask? Well, Pat Sloan, the host, is a professional. We had already exchanged a number of emails before the show and knew exactly what she was going to talk about. All the technical details were spelled out, and we were called promptly. A good model to follow. Did we spill any beans about all the skeletons in our closets? Well, no, but we did talk about the fabric stash we have there! And come back on Monday – we'll have a surprise for you!