Galleries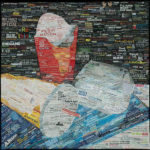 Text Art: This gallery shows some of our text pieces. It's an interesting collaborative process. First we decide on what we want to talk about. Once we figure out a design, we print it onto paper and cut appropriate words and phrases from magazines and newspapers. After we've collaged the texts onto the design, we scan the image, print it onto fabric, steam the fabric, and wash it. Then we finish the piece with quilting or other embellishment. Some of our text pieces are available for purchase.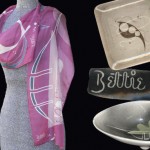 Scarves: This gallery shows samples of silk scarves we have created on a commission basis. Clients provide us with colors, memorabilia, photos, as well as likes and dislikes of the scarf recipient, and we create a one-of-a-kind silk scarf. Prices start at $240. Click here for details on how to order a scarf.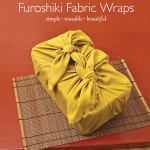 Furoshiki: Click on this link to learn more about furoshiki design and our first book, Furoshiki Fabric Wraps: Simple, Reusable, Beautiful. We love the simplicity of the cloth wrap and the beauty of the wrapped objects. While any cloth can function as a furoshiki (including our favorite – thrift store scarves), we think a beautifully designed furoshiki makes the resulting wrap a true work of art. Who would then ever open the gift?!