How to Order a Scarf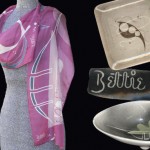 If you want something unique, we can design a scarf just for you or that special person. Contact us for a phone or studio appointment. In the meantime, considering the following:
Pick out items (i.e. photos, texts, keepsakes, personal artwork) and bring/send/email them to us.
Don't worry about quality of photo/object, color, clarity, or size of item.
Just think about meaning. What is important to the scarf wearer? What does she/he get sentimental about? It can be as simple as the name of a song, a nickname, or even a family member's artwork.
Think also of family heritage – crests, birth locations. You'd be surprised what we have integrated into scarves!
Tell us about the intended scarf wearer (i.e. likes, dislikes, favorite colors).
Please remember that we do NOT print copyrighted photos/items without written permission from the photographer or copyright owner even if we manipulate the heck out of it.
Tell us if you prefer the scarf to be printed on silk habotai (various weights available, slippery), silk georgette (slightly see-through, not slippery), or silk gauze (sheer, not slippery).
Determine a delivery date – usually 6-8 weeks' lead time.
We can size scarves to your specifications. Our standard scarf sizes and prices are: oblong (16" x 80") $240.00, square (40" x 40") $275.00. These prices do not include applicable tax and shipping.