Our Latest Series: Walk A Mile In Her/His Shoes

We recently finished a 26-piece alphabet quilt for a client. The pieces were small, and while it was a challenge to work with such small text in that format (tweezers became our best friends), we really liked the objects and themes that went along with them. Since then we have worked on three donation quilts and wanted to look for suitable subjects. We returned again and again to the alphabet quilts, and the letter "O" kept jumping out at us – for Oxfords, of course!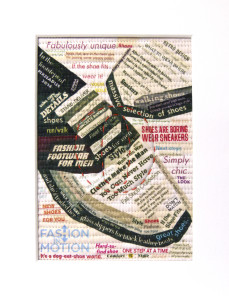 Why not do a series of quilts based on shoes, we thought? Well, we did our first red pumps for Virginia Spiegel's Fiberart for a Cause auction, and we have another set of pumps ready for the SAQA Benefit Auction in September (more on that at another date).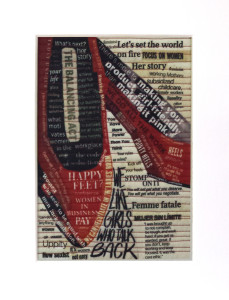 For the Spotlight Auction at the SAQA Conference this April, we worked on a pair of court shoes. We took photos of Miles' (Kris' son) old-school Converse sneakers, reduced the values to about four, and printed out the image. Then we collaged the texts. We had to do a lot of reading of fine print to get the words and phrases to convey our feelings for "Walk a Mile in His Shoes: Too Much Pain for the Gain." Then we printed the collage out on cotton and quilted it. Let us know what you think.