Press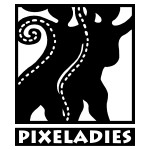 The Pixeladies create art quilts and custom-designed silk scarves. They teach quilting and Photoshop classes at guilds and online. Deb and Kris met in college – German Club to be exact. Since they were both artsy and liked to travel, they got along well. They both moved around after graduation, Deb managing fabric stores and Kris teaching college. While Kris was battling the slings and arrows in academia, Deb would tell her to "just come home, and we'll start a business." Well, Kris finally came home, and the Pixeladies were born in 2003. Their studio consists of three computers, three printers, four sewing machines, and a serger. The cat is not allowed inside. Yes, they collaborate on their Pixeladies projects because they like the challenge of coming up with a single artistic vision from two distracted minds! Their scarves and quilts have been published and juried into national and international exhibits.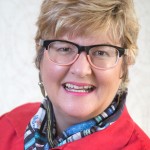 Deb Cashatt is an Air Force brat. Daughter of a retired navigator (which is why Deb thinks she has a genetic right to tell people where to go) and a very creative mother (who thinks Deb is uppity for keeping her own last name), Deb has been playing with fabric for as long as she can remember. She lives in Cameron Park, CA with her husband Dave. Sewing garments, quilting, and passing on the joy of creating to her grandkids are some of her passions. Deb really, really likes to travel and is fortunate to have friends who move to exotic places just so she can visit them. She thinks the world would be a better place if people wore boas and drove cars with fins. Deb currently serves as Special Events Chair of Studio Art Quilt Associates and was Volunteer of the Year 2016.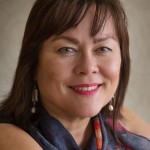 Kris Sazaki is an Army brat. She inherited the gift of gab from her dad and a sense of adventure from her mom. Sewing she learned from her sister, Noni, and knitting from her sister-in-law, Vicki, and she spent a few teenage years making items to sell at Christmas craft fairs. Her best sewing memories are of the Halloween costumes she made for her son. Before becoming an artist, Kris was a German professor, living in some exotic cities where Deb visited her. She lives in Sacramento, CA with her husband, Neil, son Miles, and mother-in-law, Jane. She thinks most problems can be solved after eating chocolate. Kris is past President of Studio Art Quilt Associates.