Road Trip to Quilt National Part I

We made it to Pendleton, IN after spending an hour on the tarmac in Chicago, trying to avoid getting hit by lightening. We are spending a great time with our dear friend, Sherry Boram, enjoying a relaxing stay before the hullabaloo starts in Athens, OH. And what better way to start than with food.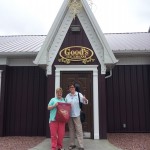 Yes, Good's Ice Cream Parlor and Candy Store is fabulous! We got to sample the Hawaiian lava salted caramel chocolates. Yes, we have some for the road. Yes, we're saving the double chocolate nutty fudge cake ice cream for dessert! But, gee whiz, dinner won't be for a few hours, so Sherry insisted we eat a bite for lunch at the best bbq in Indiana!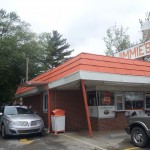 And we didn't even have to leave the car! And how fun was it to just chow down at Fall Creek in the middle of town.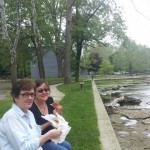 And staying at Sherry's is like living in an art museum. Here is one little sample of art postcards she collects: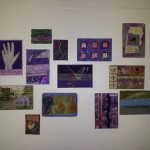 We don't want to leave!! However, we get to come back on our way home from Quilt National. We'll post again soon!