Tech Tuesday: Adobe Color CC

One of my absolute favorite things the Pixeladies have shown me is the Adobe Color CC website (they teach this in their Advanced Photoshop class, but they let me work ahead a little). This site allows you to create your own unique digital color swatches online, which you can then apply to your Photoshop workspace. If you have a paid Creative Cloud membership, you can download your swatches directly from the website into Photoshop. If you have a free Creative Cloud membership (like the Pixeladies and I), you can still load swatches into Photoshop, its just not as simple. In this post, I will show you the "work around" for getting your swatches to load in Photoshop, for my fellow "freebie" lovers out there. 😉
The website (link above) opens right up to a color wheel with a menu of options to its left. Here you can choose what kind of "Color Rules" you would like your swatch to follow. Before you go any further, be sure to sign in with your Adobe ID. Anyone who owns an Adobe product has one, and anyone who doesn't can make one for free. Once you're signed in, you are ready to create!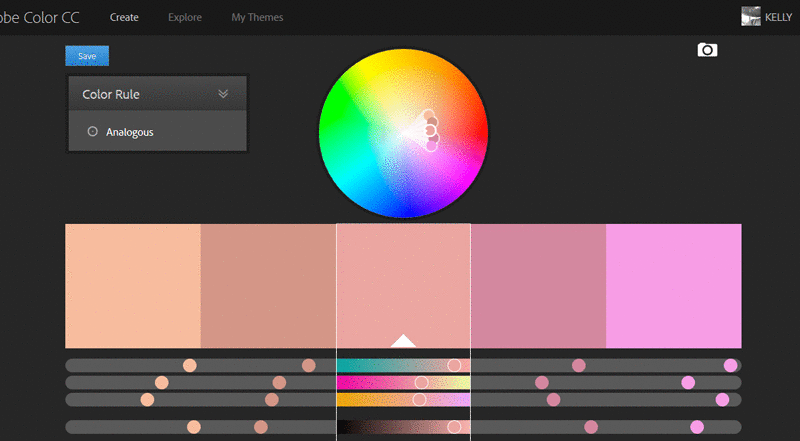 Look at all the fun you can have! (I made this .gif using another free website. Next Tech Tuesday, I will show you how to make your own.)
Okay, back to Adobe Color CC! The first step is, of course, to create your swatch. Simply drag your cursor around the wheel to select a base color, then make minor adjustments using the sliding bars below the color you selected. Warning: Time flies when you are playing with the color wheel. Sometimes I start a swatch, and by the next time I look up, an hour has gone by.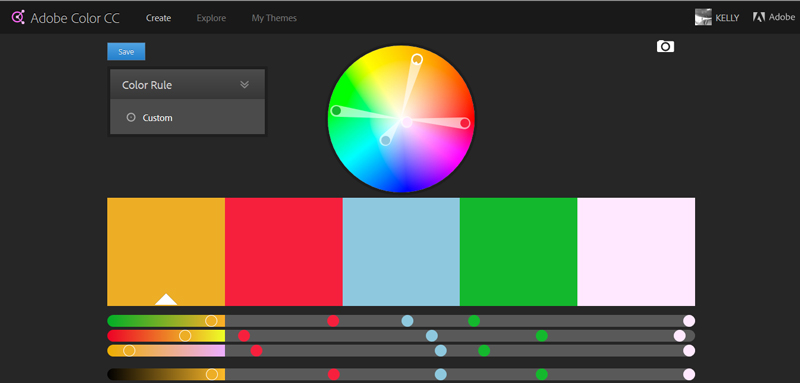 Once you are happy with your swatch, click the blue "Save" button. You will be prompted to name your theme.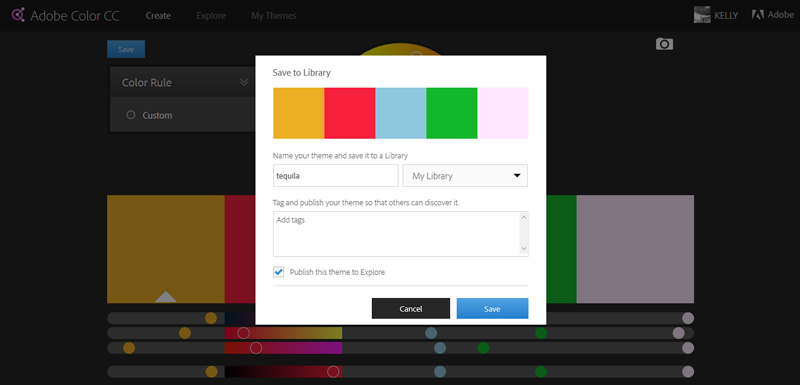 Kris and I are listening to Cuban music today in honor of the U.S. Embassy re-opening in Havana, and it's making us want to go drink and dance, so this theme was inspired by "tequila." You can choose whether or not you'd like your theme published publicly on the "Explore" page. I keep the box checked because I love browsing through other people's work.
Now that your theme is saved, it will show up when you click the "My Themes" link. Hover over the theme you want to load into your workspace, and a few options appear.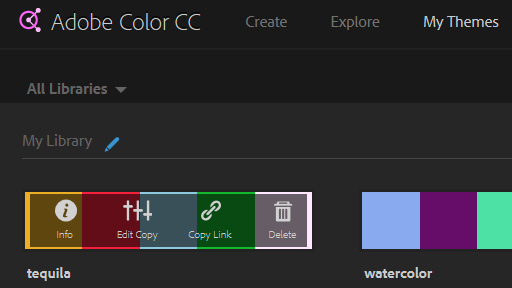 Click on "Edit Copy," and you will be taken back into the creative space, where you can scroll down a little to find the HEX code, circled here in white: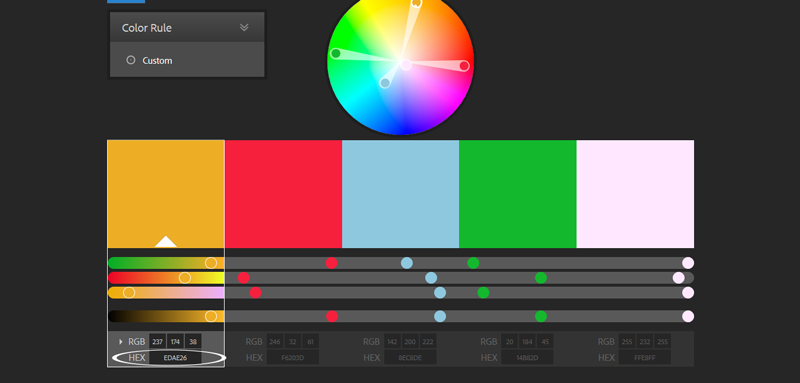 This is the magical code that will allow you to find your exact colors in Photoshop. Now go into your Photoshop workspace and double click the Color Picker.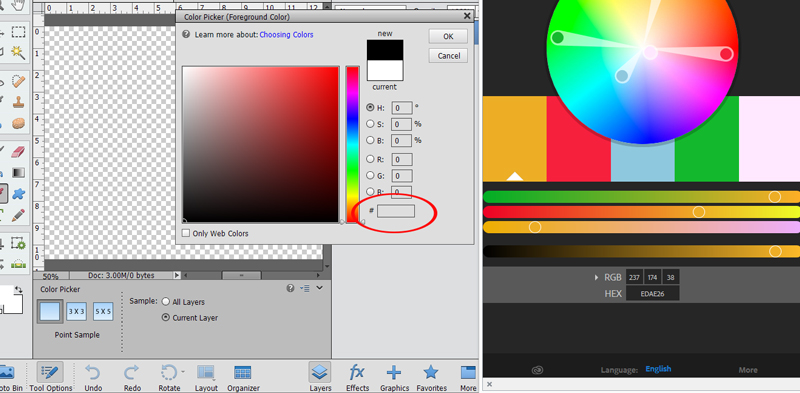 A new window should pop up with a hashtag box somewhere in it. I am using Photoshop Elements 13, and mine is the last row, circled above in red. This is where you will type in your magical HEX code. It may help to adjust your windows so that you can easily navigate back and forth and see the code as you type it. Once you have your exact color selected, click OK, and then go to the "More" icon in the bottom right-hand corner, and a box will pop up. Go to the "Color Swatches" tab, then click the teeny-tiny fly-out menu icon on the upper right of the box. Now select "New Swatch…"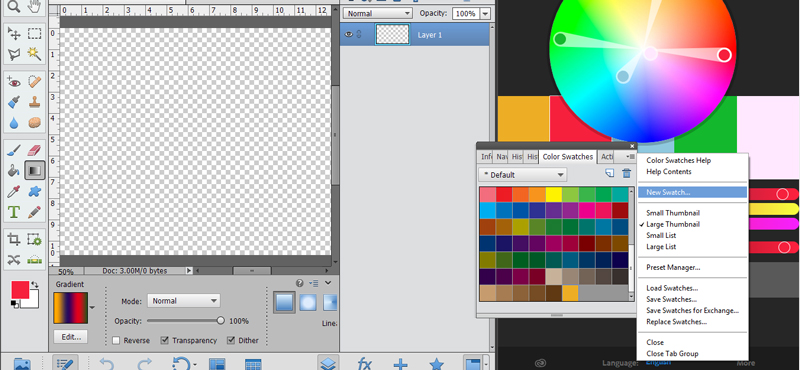 When you click "New Swatch," you will be prompted to name your colors. I recommend saving numerically (i.e. tequila1, tequila2, etc.) so that they are easier to find later. Repeat this process until all five of your swatches are visible in the Color Swatches tab, always using the "New Swatch" option.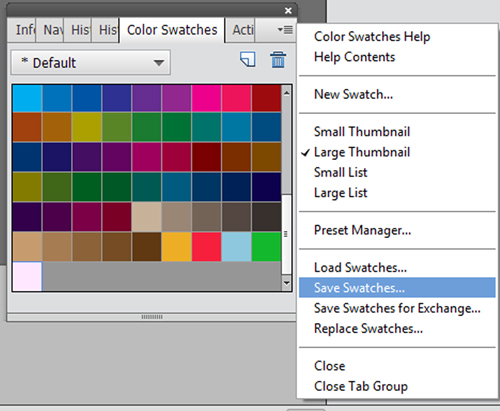 You will notice that the last five color swatches in your Color Swatch tab are the theme you created in Adobe Color CC! You can now work with your swatch in Photoshop. You can also save and share the swatch. To do this, select the first one, then while holding down your Shift key, select the other four. Once you have the five selected, let go of the Shift key and click on the teeny-tiny fly-out menu icon again. This time, go to "Save Swatches…"

… and save your swatch as an ACO file. To load a swatch file into your workspace, go to the "More" icon, "Color Swatches," fly-out menu, and select "Load Swatches…" A window will pop up where you can select the swatch file you just created.
Swatch responsibly, friends!