Tech Tuesday: PSE Essentials II Starts Feb 9

We've been engrossed in teaching Photoshop Elements Essentials I, which started a couple of weeks ago. We are having so much fun. The students are great and are learning so much. It's wonderful to witness the "aha" moments. We're answering students questions at all hours of the day (okay, so we have yet to answer between the magic hours of 4am – 8am), but since we have students all over the world, some of them may have received their answers at that time, their time. Or was that yesterday? Time may be a jumble for us, but not the great work the students are posting.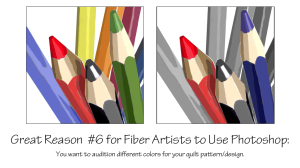 As this class winds down, we're already looking forward to teaching Essentials II February 9 – March 1, 2015 (3 weeks). We will go over all the essential tools and manipulations we know fiber artists and non-sewers alike will use the most. Won't you join us? Beginners and those needing a refresher course are most welcome. Please go to our class page for more information and to register.