Quilt National Part II

Here it is, our Quilt National entry. It's called "American Still Life: The Weight of the Nation":
You can click on the thumbnail to see the larger image. We wanted to create a still life. It seems as if every artist tries at one time or another to create a still life, but we were faced with a dilemma: how to create a still life that our generation would understand. Well, we decided that people would understand a still life that dealt with our American eating habits and their consequences: diabetes, high cholesterol, and obesity. Our label reads: No the irony was not lost on the artists who a) were able to use the labels from the food they ate themselves and b) met each other about 50 lbs. ago . . . each!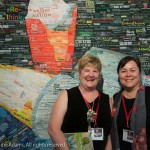 Deidre Adams took this photo of us at the opening. We were pretty excited to see our work hanging in the exhibition. It does look different in a gallery setting. Click here to go to Deidre's blog and view more images.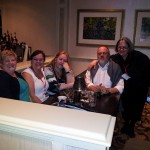 One of our favorite coincidences of the opening (and there were many) was the opportunity to hang out with new friends and speak German for an evening. We enjoyed some after-dinner cocktails and great conversation with  Brigitte Kopp and Rita Merten, two of the QN artists. Wow! They had thought-provoking work in the exhibition. We were joined by Rita's husband, Ulli. What fun to talk about art and hear different perspectives from artists working in different countries. We'd like to brag that we closed the place down, but let's face it, they kicked us out at 11 pm, so it's not like we broke any records. We'll post about our favorite pieces from QN '13 in our next post.