Tech Tuesday: Fun with Color

You just never know where you're going to learn something new. I've been frantically working on the printed program for the Studio Art Quilt Associates (SAQA) conference. I'm almost finished. The last part is placing the ads in the program. Since I'm known to procrastinate before deadlines (it might be the only time I clean my house!), I decided to visit the websites of some of the advertisers. That's how I got to Jinny Beyer's blog.
Jinny is a long-time quilter. In fact one of the first quilting books I bought back in the 1980's was Jenny Beyer's Quillter's Album of Block and Borders. I think this book may have been written pre-rotary cutter. Do you remember cutting out fabric with templates? I loved to use X-rays as templates, they lasted longer than cardboard. But I digress (I told you I'm good at procrastinating).
Back to Jinny Beyer's blog. Her most recent post was about wildflowers in Virginia—not really a topic for a Tech Tuesday post. But there in the middle of all of the natural beauty was a Photoshop tip. A really great one. And easy, too. It was how to make a set of color swatches from a photo. I've done this many ways, from using stand-alone programs, to uploading photos to a website. But this is so easy I just had to share it with you. So here it is, simple and sweet:
1. Open the image in Photoshop.
2. Go to the top menu bar to Image/Mode/Indexed Color. Select the number of colors you want to see from the pop-up menu. You can go up to 250.
3. Next go to Image/Mode/Color table. The chart with all the colors will come up.
From http://www.jinnybeyer.com/blog/spring-is-here-with-design-inspiration/
Here's my photo of a cool begonia in Hong Kong Park. (That swirly-leafed begonia would be a great present, now wouldn't it?) I followed Jinny's steps, but decided to select only 50 colors.
So what do you do with these pretty squares? How about replacing the default swatches in Photoshop with the Begonia colors so you could design some fabric using this color palette?
Here's how:
1. First you have to save your Color Table. With the Color Table open, click on Save. Save the file somewhere you'll remember; you'll need to find it in the next steps.
2. Open your Swatches panel: Click on Window > Swatches from the menu bar. If there's a check next to Swatches, it's already open.
3. Click the menu icon in the Swatches panel. A drop-down menu will appear. Choose "Replace Swatches."
4. Choose "Color Table *.ACT" as the file type. Navigate to the file you saved in Step 1. Click on the file, then press Load. (You can always change back to the default colors by choosing "Reset swatches from the drop-down menu.)
5. Now it's easy to change your foreground color to one of the begonia colors by just clicking on one of the squares in the Swatches panel.
From: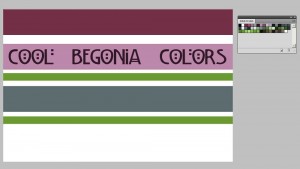 If you should be doing something else, but want to have a little fun, give this a try. But I warn you, it's quite addictive.