Tech Tuesday: LibreOffice Is A Free Alternative to Microsoft Office

Being only 19 and not having an extra $140 to spend on Microsoft Office, I was having a lot of problems trying to do things like send my resume to someone or Email homework to a teacher. When I started my internship, Kris and Deb recommended I try LibreOffice. It made sharing documents much easier. Unlike Pages, the writing software that came with my Mac,  LibreOffice is compatible with Microsoft Office, so I can save a file in Microsoft format and send it where it needs to go. During my internship I have needed to use Excel almost every day, so having the Spreadsheet option on LibreOffice has been awesome. Not only is LibreOffice free but it is really easy to use and the format is very similar to Microsoft Office. When I get stuck and need help (and Kris and Deb aren't around to help me), I can usually find a tutorial on Google or YouTube. The first spreadsheet I had to make was to keep track of my hours. Since the Pixeladies need to know how I divide my time, I made a color-coded bar graph. Here's the first page: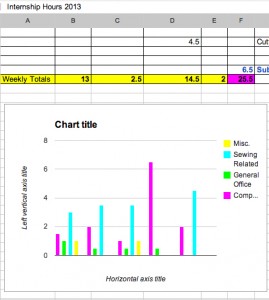 If you need a free alternative to Microsoft Office, I recommend LibreOffice.
Click here to download LibreOffice.
Click here for a good YouTube introduction to the LibreOffice spreadsheet.