Around the World Blog Hop: It's Our Turn!

Welcome to our installment of the "Around the World Blog Hop".
We were invited to join the hop by Kate Themel.  We met Kate through SAQA (Studio Art Quilt Associates).  We have served on SAQA committees together and get to visit Kate at the annual SAQA Conference.  We love her work! We are in awe of how she creates light – sunlight, candlelight, moonlight, electric lights – with fabric and thread. Her expertise with light sometimes reminds us of John Singer Sargent and his portraits of women (and their dresses). Take a look at her blog to see some of the amazing work she's been doing lately: http://katethemel.blogspot.com/.
The basic format of the Around the World blog posts is a set of Questions & Answers. Here we go!
What are we working on right now?
We have been working on a commission. It's always interesting to learn how people get commissions. We had donated a 5″ x 7″ quilt to the Spotlight Auction, which has been held at the annual SAQA conference for the last couple of years. It's called "An Apple a Day" and brings up the healthcare debate in the words and phrases we collaged onto the apple drawing.
The person who held the winning bid on the quilt came up to us after the auction and asked us to finish the "rest of the alphabet" for his infant son [deb's note: we embroidered an "a" over the apple]. The best part of this commission was that our patron decided he did not want to have approval of  either the letter object or the letter theme. He gave us full artistic control. Needless to say, we are having loads of fun working on this project. We're just "slightly" worried that we may mess up his son's elementary school experience. Can you imagine what will happen when the teacher asks the class "Can you name a word that starts with Z, and the boy cries out, "Z is for ziggurat!" [deb's note: personally, I'm worried about him shouting out "o" is for oxfords!]. Here's a photo of the printed fabric in the rinse!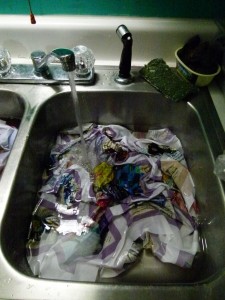 How does our work differ from others of its genre?
Our work probably differs most from others because we almost always start on the computer. Well, we really start out by talking to each other (see #4 below), but once we start thinking about design, it's off to the computer. Fabric comes much later in the process. It's like the dessert to the meal. Here you can see the original photo and then one layout that has the values all worked out for the ensuing collage.
Why do we create what we do?
One question often posed to us is why do we create in cloth? This is an interesting question, especially in light of our recent work, where we start with a paper collage. We could just stop there (and, yes, we save most of our paper collages), but fabric is our language. That's what Deb says. And Deb has been sewing since she was a little girl. I like to say you can't take a paper collage to bed with you. In other words, it's the feel of the fabric when you work with it that is so satisfying. [It's deb again: we learned a new word a few years back: haptic. Look it up]. Here is the finished quilt based on the design above: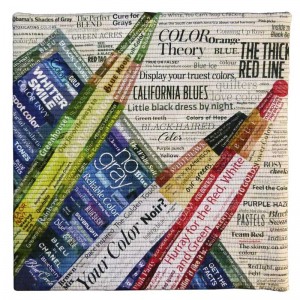 How does our creative process work?
People are often interested in learning why we collaborate. After all, art is a lonely pursuit, or so say many artists. Well, neither one of us had the gumption to do this by ourselves. Our first inclination was not to put ourselves out there. After all, what did we have to offer? Eleven years after forming Pixeladies, we look forward to sharing ideas with one another because the collaborative process produces a new vision that we often did not anticipate in the beginning. And we can blame the other one when things go kablooey. 😉 Here we are working on a project:
Now we'd like to point you to two blogs of quilt artists we admire:
Carla Barrett, quilter extraordinaire, can literally quilt circles around most people. She doesn't just finish a quilt, she creates a story with her quilting. Look at her blog to see what we mean: http://featheredfibers.wordpress.com/. Carla lives down the road from Deb, and we will miss her terribly when she moves onto her boat. And, no, she will not be taking the long-arm machine with her.
Gerrie Congdon's hand-dyed fabric is what initially drew us to her work, but the way in which she composes her pieces keeps us coming back to her web site to see what she has created lately. Visit her blog at http://www.gericondesigns.com/weblog/. We met Gerrie through SAQA, too, and always look forward to seeing her at SAQA conferences. Next year the SAQA conference will be in Portland, OR, so we plan on partying with Gerrie while we're there.